Start Something Guide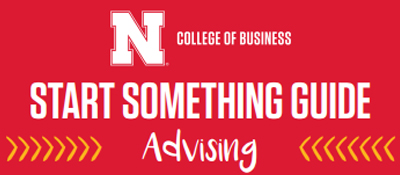 Course Sequence Guides / Four-Year Plan
Choose the four-year course plan for your business major. You may need to select an older bulletin or catalog year. Links below direct to the most current catalog.
Transfer Credit
If you are a current Nebraska student and plan to take a course at another institution, you will first want to make sure that you know how the credits will transfer and apply toward your Nebraska degree. Follow these steps to determine how your course(s) will transfer:
Discuss your plans with a Nebraska academic advisor. The College of Business in particular has rules about the number and types of courses you can transfer to count toward your business degree. Visit with an advisor to make sure you abide by these transfer credit rules. Also inquire about how transfer credit can impact degree sequencing, Nebraska course registration, and GPA/grade requirements.
Use Transferology to find a transfer course. Transferology contains information on how courses transfer to Nebraska. After you create a Transferology account, you can use the "Find a Replacement Course" function to find a course at another institution that will transfer to Nebraska to fulfill your degree requirements.
Can't find a transfer course you need on Transferology? Transferology only includes those courses that have been previously evaluated by Nebraska. Your intended transfer institution may offer the course that you need; the course just may need to be evaluated by departmental faculty. You can work with an academic advisor to get a course evaluated. To start this process, obtain a detailed course syllabus for the transfer course you want to take and submit it to your advisor.
Register for the transfer course after making sure that the course will transfer to Nebraska and count toward your degree.
Submit final transcripts to the Nebraska Admissions office when the course is complete. Should you need the transfer course to register for a course at Nebraska, fill out a "Request for Prerequisite Override" form.