SCHEDULE AN APPOINTMENT
We're available to assist you with all of your career-related questions.

All career coaching is currently virtual.
Schedule online through MyPLAN, call 402-472-7272 or email
businesscareers@unl.edu
.
Drop-in hours are available in the fall and spring semesters. See us for 20 minutes or less Monday through Friday between 1-4 p.m.
SCHEDULE AN APPOINTMENT THROUGH MYPLAN
1. Navigate to my.unl.edu and select MyPlan. (Find and schedule appointments with your advisors and academic coaches.)

2. Click the hamburger menu in the blue bar and My Success Network.

3. In the search bar, type Business Career Center and select the option that says Careers - Business Career Center.

4. Two Options:
• To meet with any Career Coach: click on the Schedule Appointment button located under the listed hours.
• To meet with a specific Career Coach: click on the Career Coach you would like to meet under the Team Members section.

5. Select the topic and time that works for you. Appointments are automatically 45 minutes. To meet for longer, click Change duration under Date and Time to set your appointment for an hour.

6. Enter what you would like to discuss so your Career Coach is prepared to help you and click the confirm button.

7. A confirmation will be sent to your @huskers.unl.edu email.
Ring the Success Bell
Not only are we with you every step in your career journey, but we celebrate with you too! Celebrate getting your internship or full-time position or getting accepted into graduate school. The Success Bell is located in our office (HLH 141).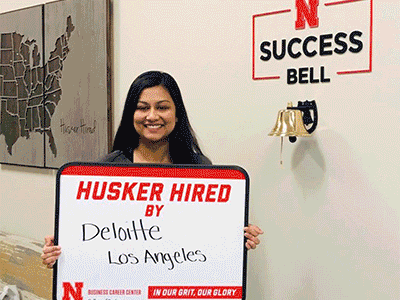 Find Nebraska Business on Social Media