Undergraduate Certificate Program in Sales Excellence
Gain a Competitive Edge in Any Major
Business Majors
Whether you are in accounting, actuarial science, agribusiness, economics, finance, management, marketing or supply chain management, there is some form of selling in every job.
Sales communication training develops skills desired by employers and increases your market value.
"There are a lot of brilliant people in business who cannot communicate with others. When they attempt to become managers, we have to replace them with the kind of people who can communicate." –CEO of a California corporation
Non-Business Majors
Sales is a crucial component of every industry. Regardless your chosen profession, sales skills are a tremendous asset that can give you a distinct competitive advantage throughout your career.
As a non-business major, this is a great set of skills to list on your résumé.
Completing a Certificate in Sales Excellence proves to potential hiring companies you have strong communication skills, good relationship-building abilities, and that you will be an influential contributor.
Curriculum
Earn your Certificate in Sales Excellence completing 15 credit hours of required coursework. An Advanced Certificate in Sales Excellence is also available for students who complete an additional 3 credit hours of relevant coursework. Any and all majors are welcome to apply for admittance to the program by taking the first course in the program, Sales Communication – MRKT 257, which is an ACE 2 class.

Both certificates complement your existing major/minor and serve as a formal recognition that you satisfactorily completed the course requirements listed below. Certificates will not be listed on the student's transcripts. However, given the value of the certificates' curricula to prospective employers, you will benefit by mentioning these certificates on your résumé.
Courses
Required Coursework
Sales Communication (MRKT 257)
(3 credit hours)
ACE 2 Designated Class
This is the first course in the certificate program and provides an introduction to the fundamentals of sales communication including, verbal, listening, and written skills. You will learn the various components of the selling process, develop a written selling plan, and gain experience in executing each step of the selling process through role-play exercises.
Advanced Professional Selling (MRKT 357)
(3 credit hours)
Prereq: MRKT 257 and admission to Center for Sales Excellence
This course will build on the concepts in MRKT 257. You will learn advanced professional selling theory and practice, sales processes, planning and delivering sales presentations, and dealing with ethical sales issues. Professional selling practice and individual feedback for improvement are a core component of this course.
Sales Practicum I (MRKT 371)
(3 credit hours)
Prereq: Admission to Center for Sales Excellence
This course will help you develop your personal brand. You will learn about business etiquette, networking, negotiations, and career strategy. You will also be exposed to the organizational culture and opportunities provided by the Center for Sales Excellence Partners and learn what they look for in potential employees.
Customer Relationship Management and Sales Technologies (MRKT 457)
(3 credit hours)
Prereq: MRKT 257 and admission to the Center for Sales Excellence
This course focuses on customer relationship management (CRM) and sales force technology. The course will teach you how to use CRM systems in sales and use them to identify good prospects, improve customer retention, and maximize customer value. You will also get hands-on experience using a CRM system to successfully plan and execute a sales plan.
Sales Force Management (MRKT 458)
(3 credit hours)
Prereq: MRKT 341 or admission to the Center for Sales Excellence
In this course, you will learn about tasks that a sales managers needs to perform in building, directing and leading a sales force. Topics covered include sales forecasting, designing and structuring sales territories, and issues related to hiring, managing, compensating and evaluating sales people.
Optional Coursework
Sales Practicum II (MRKT 372)
(1-3 credit hours)
Prereq: Admission to Center for Sales Excellence
This optional practicum course is for students who want to pursue a sales-related internship (highly recommended). In this practicum, you work with a professor on a one-on-one basis and learn how academic sales concepts apply to your practical internship experience.
Advanced Professional Sales Certificate Additional Coursework
Key Account Selling (MRKT 460)
(3 credit hours)
Prereq: MRKT 257; MRKT 357; MRKT 457; and admission to the Center for Sales Excellence
Teaches how to segment key accounts, how to identify high-margin business opportunities, how to sell to complex enterprises, and how to manage a Key Account team. Students practice key account presentations through role-play exercises and make actual calls and presentations to businesses in the region.
Learn By Doing
You will use state-of-the art facilities located in the Center for Sales Excellence role-play lab. With seven role-play rooms equipped with one-touch recording technology, class assignments put you in a setting to role-play, review and revise your work, which helps develop selling skills.

The sales labs also provide a means for professors to view and evaluate selling skills and techniques. As a student, you can also download role-plays for personal use, digital résumés and videos as samples to share with potential employers.
Sales Scholarships
Thanks to the support of generous donors, students in the undergraduate Certificate of Sales Excellence program can benefit from multiple scholarships.

Learn More
Join a Strong Community
As part of the Sales Center program, students enjoy the tight-knit community that develops from being in the same classes and participating in the same sales projects.
We work in collaborative groups and the students really bond in this program to where you know everyone in a closer way than normal classmates.
--Kathleen O'Toole '17 Marketing Major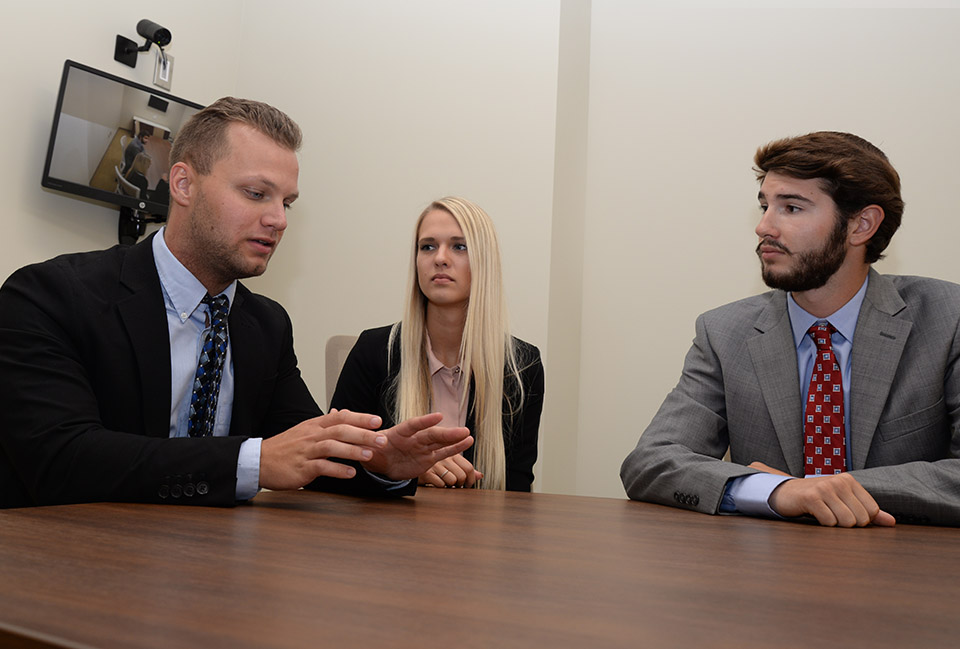 In-Demand Skills
Learning how to build relationships, communicate and persuade effectively will help you advance more quickly. Seven soft skills employees are looking for are:

• Acting a team player
• Flexibility
• Effective communication
• Problem-solving and resourcefulness
• Accepting feedback
• Confidence
• Creative thinking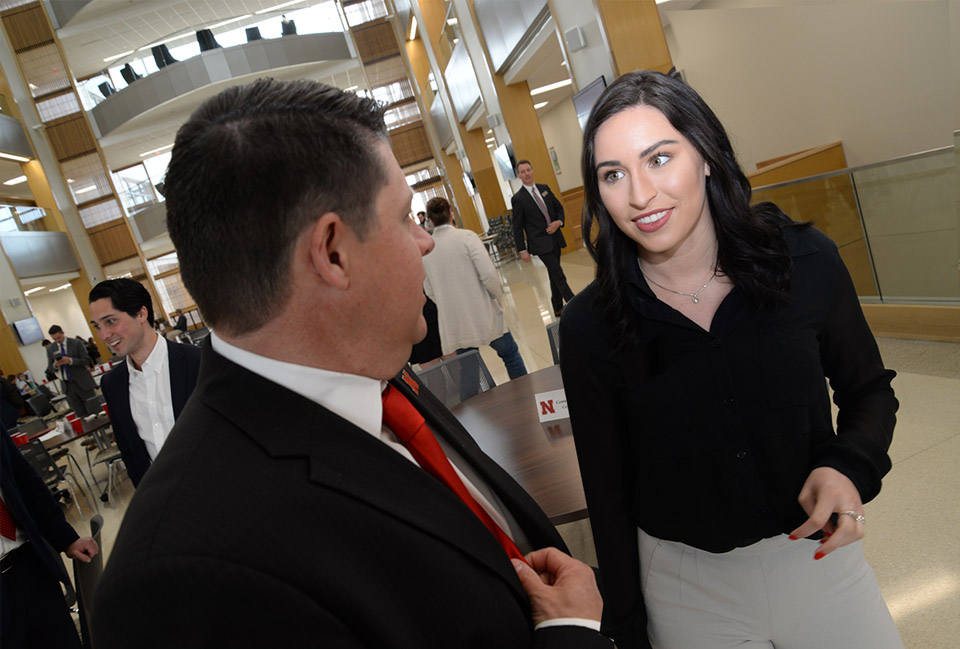 Realize Opportunity
As a sales center student, you will connect with companies who are recruiting for talent and provide a variety of opportunities for internships and full-time careers. Networking events on and off campus will also help introduce you to the talented people behind world-class sales organizations.
I started the Chapin scholarship program with the Sales Center because I believe in the sales profession. When I speak to students I explain a good sales person never wants for a job.
--Richard Chapin, Nebraska media pioneer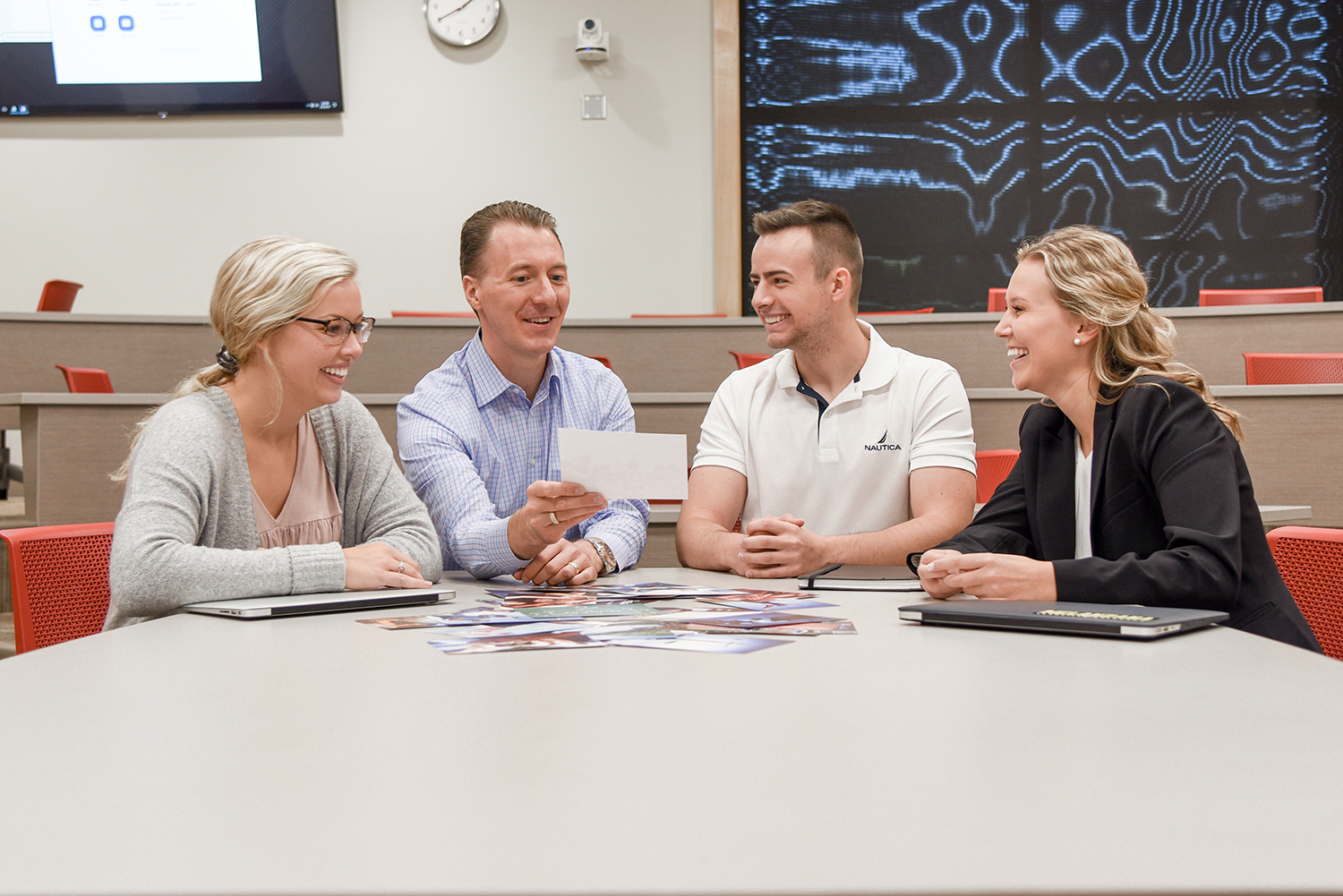 Competitions and Events
The center hosts a number of events that connect students and our corporate partners, challenge your sales skills, and celebrate your accomplishments. Students in the Certificate for Sales Excellence program also earn the opportunity to represent Nebraska at national and international sales competitions.

Learn More
Connecting to Employers
The Center for Sales Excellence works closely with corporate partners who provide generous support to the program and our students. These partners not only help support the mission of the center, but also contribute to your professional development by attending events, participating in course projects, mentoring and regularly speaking in the classroom.

Center for Sales Excellence
Faculty
Executive Director of the Center for Sales Excellence
HLH 335 D
402-472-2316
Assistant Professor of Practice in Marketing
HLH 335 Q
402-472-3120
Assistant Professor of Marketing
HLH 345 L
402-472-2316