Course Syllabi For Online Students
This website is designed to give you an overview of the courses in the online MBA program and provide you with information about format and features used in the online courses and sample syllabus from classes.
Refund Schedule
Below is the University of Nebraska-Lincoln Student Accounts refund policy as it applies to eight-week courses:
| Refund % | % of calendar days passed |
| --- | --- |
| 100% | 0.000% - 7.408% |
| 75% | 7.409% - 10.256% |
| 50% | 10.257% - 16.239% |
| 25% | 16.240% - 22.222% |
| 0% | 22.223% - 100% |
The refund policy is calculated based on the percentage of calendar days that have passed since the first day of class. This percentage is based on the number of calendar days in the term and this total will vary by term. When you try to drop, the MyRED system will tell you the exact refund you will receive.
Register For Classes
ONLINE CLASSES
Students will use MyRED to register and pay for classes each term.
Registration will open 30 days prior to the start of the term. The August and October terms are both considered part of the fall semester. The January and March terms are both considered part of the spring semester.
Online MBA class numbers are hidden in MyRED – they will not show up in a class search. Class numbers needed for registration will be emailed out from the MBA office 30 days prior to the start of the term.
ON-CAMPUS CLASSES
Students will use MyRED to register and pay for classes each term.
The registration system is based on the traditional on-campus semester schedule. Because our GRBA classes run on unique, eight-week terms, students who plan to enroll in more than one eight-week term per semester must register for both terms before the start of the traditional semester.
ADDITIONAL BENEFITS FOR ALL MBA STUDENTS
MBA Mentoring Program
The purpose of the MBA Mentorship Program is to cultivate relationships between current graduate students and alumni or friends of the university. MBA students must apply for the program, and the mentors and mentees meet once a month from September through April. The MBA mentees gain insight to businesses and organizations, get career advice and expand their network.
FAQ Apply Now

If you have questions, you can contact the Business Graduate Programs Office at businessgrad@unl.edu or 402-472-2338
Beyond B School
Beyond B School is a career management resource for all business graduate students. It covers job searching topics such as resumes, interviewing and cover letters. Beyond B School differentiates between other career management resources by thinking about how to market oneself as an experienced professional and highlighting the value the MBA brings.
Other Beyond B School resources address career change and salary negotiation to leverage the MBA in new careers. Especially helpful in this work-from-home time, Beyond B School has resources about virtual interviewing and networking. In particular, there are a number of resources around the use of LinkedIn and other social media to develop and maintain professional connections. The site is organized by topic area as well as action items – assess goals, career path and personal branding; target resumes, research and network; and launch through communication, interviewing and negotiation.
If you have questions, please contact the Business Career Center at 402-472-7272 or email businesscareers@unl.edu
Redesigned Core Courses and Electives
All of the MBA@Nebraska core courses and many of the electives have been completely redesigned in Canvas. Feedback from our current students indicate that they value the intuitive and easy-to-access format of our new courses. We are continuing to update more electives this year.
Memorandum of Courses
Time to File Your Memorandum of Courses
Download Memorandum of Courses
Click the link above. Download and save the file to your computer BEFORE filling it out.
Fill out the top with your personal information.
Check the MBA box.
Select Option "B"
Write "Business" on the Major line.
If you are completing a specialization, write it in on the Specialization line. Students are only allowed to list ONE specialization.
If you were required to take statistics, list the course you took and the grade you received in the "Courses to remove deficiencies" section.
List the required core courses under Major Courses.
List your electives under Minor and/or Related Courses.

Include all elective courses you plan to take. If you choose a different elective later, you can update your MOC with your advisor.
Electives may be taken from any of the business areas – accounting, economics, finance, marketing, management, supply chain, or business analytics.
One of your electives must be used to meet the international overlay.
Approved internships can be used as electives.

If you have approved transfer credits, they should be substituted for the appropriate class on your MOC.
The MOC should be filed when you are half-way through your program (24 credit hours.)
Graduate Studies will not accept your MOC during your final semester. It must be submitted to your advisor at least one full semester prior to graduation.
SAVE the completed MOC to your computer again to retain your information.
Email the completed MOC to your advisor, who will get it signed and then file it with Graduate Studies once it is approved.
Tuition
The following tuition and fees were posted for the 2022-23 academic year. Rates are subject to change and will be posted on this page as soon as possible.
On-Campus Courses
Cost
Resident Tuition
$422/credit hour
Non-Resident Tuition
$1,232/credit hour
Registration Fee
$20 – domestic students
$70 – international students (after 1st semester)
$150 - new international students 1st semester
Technology Fee
$11/credit hour
Library Fee
$6.25/credit hour
University Program and Facility Fees
$519.00 for 1-6 hours
$631.00 for 7+ hours
| Online Courses | Cost |
| --- | --- |
| Resident or Non-Resident Tuition | $650/credit hour |
| Registration Fee | Included in tuition |
| Technology Fee | Included in tuition |
| Library Fee | Included in tuition |
| University Program and Facility Fees | Not applicable |
| Online Course Fee | Included in tuition |
*Course materials such as textbooks, cases studies, and coursepacks, may be required for your course. We anticipate that the average cost for course materials will be $150 per course.
Please refer to UNL Student Accounts for information on possible additional fees.
If you are enrolling in an on-campus course, you can determine if you are a resident or non-resident of Nebraska. Please refer to the Nebraska Residency Policy.
For questions related to financial aid, please contact the Scholarships and Financial Aid office.
Financial Assistance
Loans are credited to your student account each semester at the point you reach half-time status (4 or more hours). You can check your UNL To Do List in MyRED to see requirements and accepted financial aid. If your semester financial aid award exceeds your charges, a refund check will be mailed to you at your local address about 14 days after your aid is credited to your student account unless you enroll for direct deposit of your check. Enroll for direct deposit via your MyRED account. If you have questions, contact the Financial Aid Office 402-472-2030.

Loan Aid Financial Aid & Scholarships

Payment
Tuition statements are available for viewing online via MyRED. Monthly bills are posted by the 25th of each month and due the 12th of the following month.

Payment Options
Career Services in Your College
A dedicated team of career coaches at the College of Business can help you achieve your career goals. Our career coaches are ready and willing to help our on-campus and online students in a variety of ways.
Learn More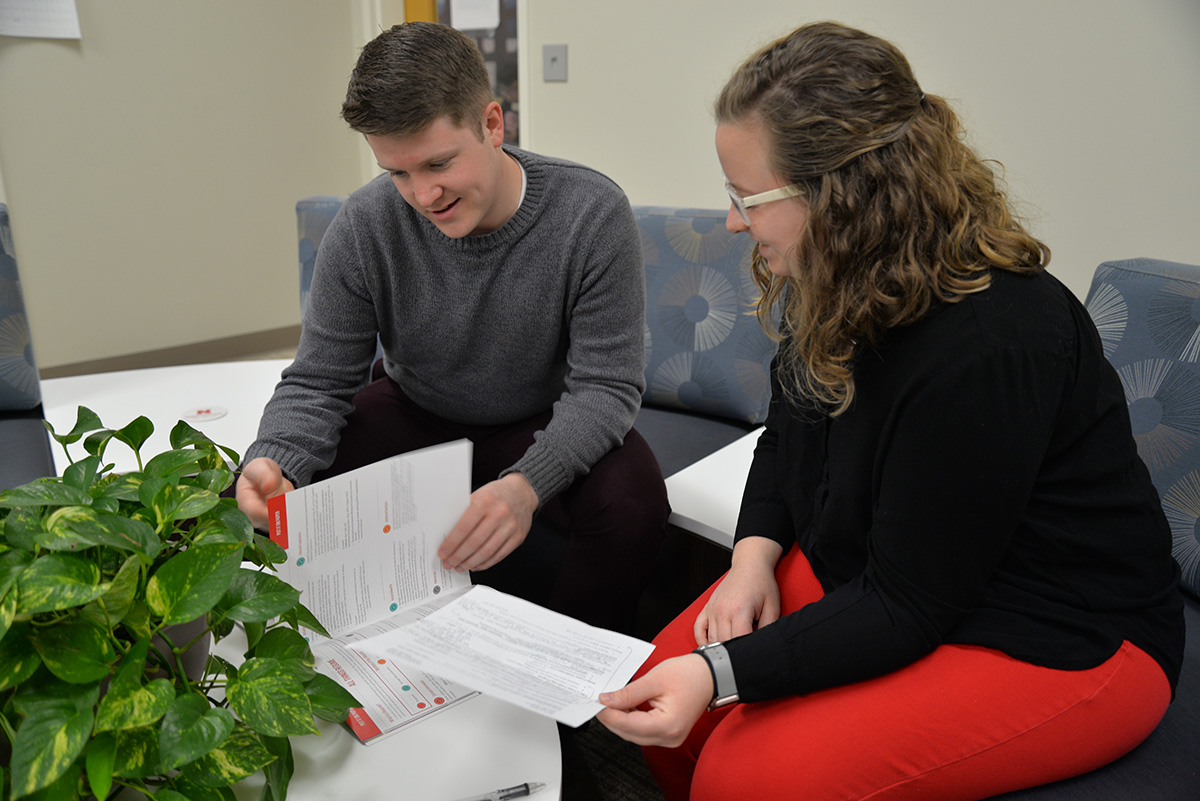 Graduation
Approximately four months prior the end of the semester you plan to graduate, you should begin familiarizing yourself with the requirements and deadline for graduating. Graduation applications are generally due the first month of your last semester. You can find step-by-step instructions and the application deadline on the registrar's website.