Important Dates
All activities will be available in-person and online
| Event or Deadline | Date | Time | Location |
| --- | --- | --- | --- |
| Kick-off Meeting | Tuesday, January 18 | 12:30 p.m. | HLH 115 |
| Finalize Teams | Sunday, January 23 | - | - |
| Part 1 Case Released | Wednesday, January 25 | - | - |
| Part 1 Recommendations Due | Sunday, February 6 | - | - |
| Semifinalists Announced | Tuesday, February 10 | - | - |
| Final Presentations & Awards Luncheon | Friday, February 18 | 11 a.m. | Hawks Hall |
Frequently Asked Questions
How do I sign up?
Email Kasey Linde (klinde2@unl.edu) to be added to the competition's Canvas course. Participation is free.
Do I have to find my own teammates?
No. You can find other team members once you have joined the competition's Canvas course.
Can I compete if I'm not a College of Business student or in any business classes?
Yes, but you must have at least one undergraduate or graduate College of Business student on your team of 3-4 students.
Will the competition be online or in-person?
Both! You can participate using either format, but if one team member presents virtually, your entire group will need to present virtually as well.
If we win, how do we receive the prize money?
Winners are paid via check. The prize money is split evenly among team members.
Are there restrictions on how I use the prize money?
The prizes may be spent at the winners' discretion.
Contact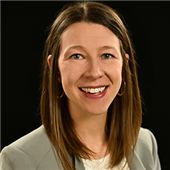 Director of Teaching, Learning and Accreditation
HLH 014
P.O. Box 880405
Lincoln, NE 68588-0405
402-472-4292